(From
The Lady Of The Lake)
Floating Lights
(Level One, White)
:
Needs to be cast in the presence of an existing fire; this spell causes the flames to float free of whatever they are burning (
the mage can create one floating light from a candle, two from a burning torch, four from an average hearth fire etc
) and move through the air as the caster sees fit.
He can control two floating lights per level, within a range of 40ft (
plus 10ft per level over one
). They can last up to two minutes per level of the spell caster or until returned to their original source. If the spell expires or they are moved out of range they simply blink out of existence.
Curse Of The Bastet
(Level Five, Black):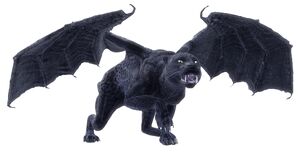 A particularly heinous curse, especially when cast upon an innocent. The victim (
until she receives a "remove curse" from a wizard of at least 10th Level
) will transform at the stroke of midnight, on nights with a full moon, into a bastet (
see below
).
The curse victim will stay in this form until she has killed at least one person of her race, then - as long as there are no other of her race around - she will transform back until the midnight of the next full moon. She will stalk and attack the first potential victim she sees and can only transform back once she is in an environment where she does not feel threatened... or the sun rises.
Any wounds she suffers in her bastet form are carried over (
like for like
) into her original form when she changes back, so it's possible for her to sustain damage as the monster that will kill her when she changes back.
Bastet
:
A magical creature that resembles a black panther the size of a lion with wings and elongated fangs. Bastet are the creation of a curse (
see above
) and exist only to kill.
They transform from their human (
elf, dwarf, hobbit etc
) form at the stroke of midnight on the night of a full moon and will stalk and attack the first person they see that fits the curse criteria.
However, as long as the creature has already taken a life that night (of
a person of the same race as the curse victim
), they will no longer be compelled to kill and will, thus, be able to spare friends, family etc who happen upon them. If wounded for more than half hit points will not be strong enough to fly.
#ENC
: One
HD
: 5
AC
: 15
#Att
: two claws (1d4+1/1d4+1) or one bite (1d8)
Move
: 12 (Fly: 24)
ST
: 12
CL
: 6/400
(from
Sweet Dreams
)
Legerdemain
(Level One, White): This spell allows the magic-user to perform (
for 10 minutes times his level
) feats of minor conjuring, stage magic etc to entertain or distract a crowd. He can pull rabbits out of hats, make (
worthless
) coins or clouds of butterflies appear, exhale (
harmless
) jets of flame from his mouth etc
If this act is performed in, say, a tavern with the idea of generating an income, the magician must make a STAT check against his CHA + LVL on 4d6. If he makes the roll, he will earn 3d6gp from an average tavern audience (
a lower-class establishment the payment will be 3d6sp instead, while from an upper class one it will be 3d6x10gp
).
If he fails the roll, the DM decides his penalty - depending on how badly he failed - from being boo-ed off stage to be being physically ejected from the tavern.
Droplets Of Love
(Level Three, Black): A tricky, but powerful, love spell. The wizard needs a lock of hair from the intended object of desire, which is then used in the preparation of a potion (
this takes half-an-hour
) that must be dripped into the eye of the sleeping subject of the spell, as the lock of hair is slipped under their pillow. Upon awaking the subject's first, and overwhelming, thoughts will be of their new-found "beloved".
They will then do everything within their power to be with the one they love, although they will not force themselves upon the object of their desire. If the subject is are rebuffed they will sink into a dejected funk, during which time all die rolls are made at -4. However, the first sign of hope will see the subject of the spell return to their bubbly, positive, nauseatingly happy "in love" persona.
If needs be the besotted subject will fight to obtain, or impress, the object of the spell: however every combat round - as well as rolling his to hit dice - he rolls a d6 and if this comes up even numbers he hits at +2 because he is inspired by his love, but if it comes up odds he hits at -2 because he is distracted.
The magic of the
droplets of love
can only be broken by the subject receiving a kiss from his true love.
If the object of the spell is killed while it is still in operation, the subject is penalised under the rules for
Love & Loss
(
Appendix L
) on page 144 of
Crypts & Things
.